I wrote this back in December after reading a Pique story about Pemberton's surging population and the need to build enough housing to keep up. (See below.) Then, last week, I took a peek at the incredible work done by the Whistler Community Foundation on its Vital Signs report, where we sneak a mention. This place is bursting at the seams and there's no sign of it letting up, in large part because Whistler is spectacularly failing to accommodate working community members, while catering to investors (look at all those unoccupied dwellings!) and externally employed and independently wealthy newcomers. It made me revisit this post, which is an early and probably flawed attempt at creating some kind of "Welcome Orientation" to newcomers, which I've often thought would be a useful tool for helping community to coalesce, as opposed to fracture – a risk that comes, I think, with growth, and an escalating economic diversity. I'm curious. What insights do you think would help someone become a part of a community that you cared about?
Dear new one thousand,
1000 of you have moved here in the past 7 years – well technically, 833 between 2016 and 2021, and who knows what 2022 brought…
I don't know who you are (I've been mostly inside for two years keeping to myself low profile meanwhile hillside and buildings sprouted up) and I must confess that I'm curious about you. So curious. What is your story? What brought you here?
I hope you're curious about this place too and here are a few things I'd love you to know.
It might feel amazing to have come upon this place, to have "discovered" it. (I rode the chairlift with a guy who seemed to feel that he had discovered that Pemberton real estate was crazy underpriced compared to Vancouver, Squamish and Whistler. Some "discovery.") It is not your discovery. It is not wilderness. Or emptiness. If you've come from somewhere more crowded, more domesticated, more colonized location, it might feel like wild nature, and the natural vibes here are certainly a huge part of what we all love but nature is not emptiness, or a blank slate, nor is it privacy, nor is it untouched, nor is it a free for all. It's okay that you might think that. It's pretty much embedded in capitalism, and the dominant world view.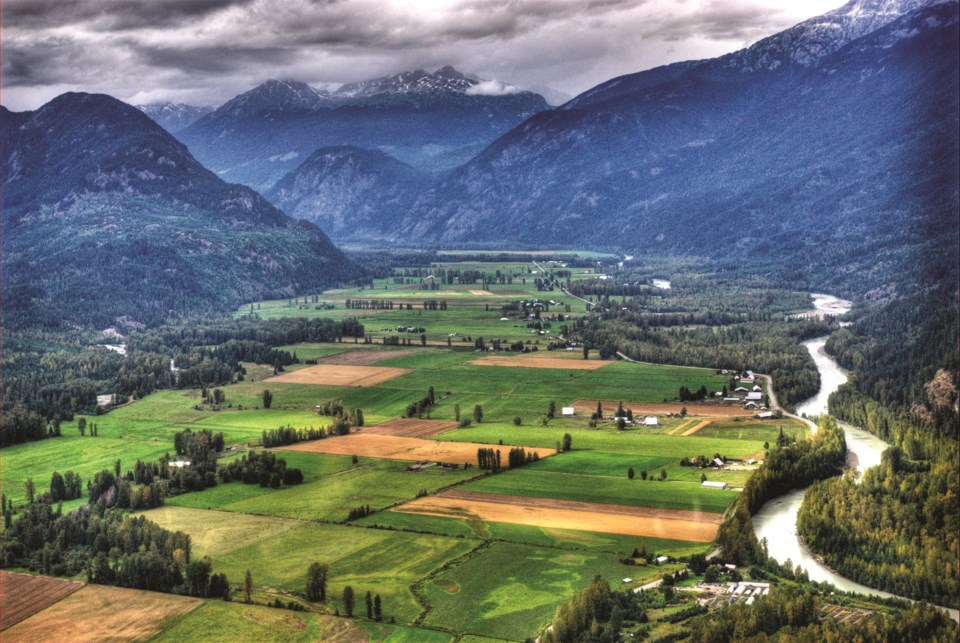 Here's an invitation. Loosen the grip on the dominant world view, because, you're in Lil'wat territory now. And if we allow ourselves to interrogate the inner colonizations, and start to awaken our own indigenization, amazing things happen. Radical things happen. You start to value relationships more than transactions. you start to want to talk to trees. You start to want to take care of things, instead of just taking things. You start to get curious about Ucwalmictws. You start to want to ask your ancestors to make repair with the ancestors of this land, to work upstream while you go about your life and work here on the ground.
Here are a few pieces of fine print that might not have come with the new pad or the realtor's welcome gift.
It can be hard here. There's literally no daycare. No transit. Not enough of most of the basic infrastructure for a community of this size.
We live downstream in time of effort that people put in, mostly as volunteers, ten, twenty, fifty years ago, to yield every single thing you see. Someone created the airport. Someone created the library. Someone created the day care, the skate park, the cemetery, the museum, the businesses. Someone created the Canoe Club, and the soccer fields and the Nature centre and the community garden plots. Someone goes and checks the freezing pipes at the Visitor Info centre every day (thank you Tina and Natalie and Darin). Someone did this as a volunteer because this is not actually a company town, and there isn't a ton of money. We live in the shadow of a big resort, and we have fancy expectations, but we literally have the beer budget, and not the craft beer (apart from when one of our farmers has grown it themselves).. to work with.
So contribute. Please.
If you are here, we need you to be part of the community, to roll up your sleeves and contribute. Join the clubs. Volunteer. Find ways to make the place thrive.
Spending money isn't enough. Buying and building isn't enough.
This is not a consumer demand based system. It will never be able to financially meet your expectations. So you will need to pitch in. If you got here because you won capitalism, congrats, that takes a lot of time and energy. Please understand that capitalism alone doesn't work here – it can't create supply that simply isn't there, it won't create daycare spots no matter how hard you yell. It has limitations. It doesn't build resilience in an emergency. It doesn't help reconcile. It doesn't support a teacher teaching with absence rates of 20-50% because of a virus that affects immune response and that we no longer speak of.
And it was and is Lilwat land. And one way to acknowledge that, not in a pro forma read-off-a-piece-of-paper scripted statement at the start of a meeting, but to acknowledge it in your bones, is to go and stand outside and gaze at something that absorbs you and to say thank you, thank you to all the forces that converged and conspired to get you here, and thank you to the Lil'wat, the N'Quatqua, the St'at'imc people, whose homes have been dated back to 5000 years, who hold stories of all the nooks and crannies and valleys and peaks, who sang the language of this place, who sing and drum in such a way that you think the mountains must thrum in gratitude back, who cared for this land, and who were made illegal, (their very existence was made illegal! their right to raise their babies was made illegal! their ability to practice their culture and speak their language and move through the land was made illegal!) in order to free it up to settlers. Like, literally, that is what the law said. It was illegal to be what they were. That came down upon the people in so many ways it is mind-numbing and heart-breaking and makes me feel like something is sitting on my chest and has pinned my arms to my side.
Your life might develop a blank slate vibe when you land here, or not. (I got a chance to reinvent myself here, in ways I didn't know how to, in the place where I was born. I have learned all these things, for myself, too slowly.) But please bear in mind that this land is not a blank slate. It is in people's hearts. And those people need to be in your heart.
I knew a man once, quite a famous man, a man who was very good with words, and he had a saying that cut me. He'd insult a person by saying "they don't know their own geography."
This is not a note to put you in your place. It's not a finger wag.
Know your place.
It's an invitation. And a request. Please. Be curious and humble. This place is its own geography. Enter into relationship with the place, as you would with any new person – ask permission, respect boundaries, take baby steps, grow.
As Pemberton's population surges, officials want to ensure it has enough housing supply to keep up
Report details the amount of land VOP needs to set aside to support community's housing needs for next 5 years
With the most recent census data confirming Pemberton as one of British Columbia's fastest growing communities, elected officials heard a presentation from Village of Pemberton (VOP) staff on Nov. 29 meant to guide future housing strategies in Spud Valley.
Between 2016 and 2021, Pemberton's population grew by a whopping 32.4 per cent, from 2,574 to 3,407, outstripping the rate of the surrounding Squamish-Lillooet Regional District (SLRD) in that time.
With that in mind, Tuesday's report was meant to evaluate both the current and projected housing supply in Pemberton to ensure that the VOP has set aside enough land for residential development to support the community's housing needs for at least five years.
"This data matters [to assess] housing needs, facilities and infrastructure, and to help inform decision-making," said planner Avery Hargitt, who presented the overview to mayor and council.
Drawing from Statistics Canada census data, as well as housing and development statistics from the VOP's internal records, the report noted that, overall, the SLRD grew by 7,381 between 2016 and 2021, with 833 of those new residents coming to Pemberton.
While other Sea to Sky communities also experienced significant growth spurts, Pemberton's 32-per-cent jump was still higher than Whistler (19 per cent), Squamish (22 per cent) and the SLRD (18 per cent).
"Pemberton is outpacing and outgrowing Whistler and the SLRD quite rapidly [in terms of growth rate]," said Hargitt.
This has had impacts on household makeup as well. Hargitt pointed out that the average household size in Pemberton over the last decade has been around 2.5, while there are about 1,467 dwellings in the Village. Those two figures multiplied equals roughly 3,667, which is slightly higher than Pemberton's currently reported population. This number indicates, at least on paper, that the VOP has been able to meet the housing needs of its citizens so far.
The overview also offered a snapshot of Pemberton's current development landscape. In total, there are 267 active applications (including 111 single-family dwellings and 92 townhomes) in the zoning stage, 264 in the development-permit stage (195 apartments, 69 townhomes) and 186 in the building-permit stage (including 74 single-family dwellings).
Out of 947 total proposed residences, 721 are slated to be built in the core, or "downtown cluster" of Pemberton. An additional 226 are planned for the so-called "hillside cluster," which includes Sunstone, The Ridge and The Plateau.
It should be noted that, while proposals in the building-permit stage are more likely to be completed sooner than those in the zoning stage, not all projects flow from one stage to another in a linear fashion. Additionally, some of these proposals may not work out due to various factors, such as broader economic conditions or project-specific challenges.
Nonetheless, these statistics appear promising to Scott McRae, Pemberton's manager of development services.
"Those numbers indicate a very strong interest in investing in our community," he said at the council meeting. "Housing investment is a prerequisite for all sorts of more sophisticated types of investment, like businesses deciding to relocate, so I think it's a necessity to attract highly competitive firms and talented workers to our region.
"An abundance of development applications is a good position to be in," McRae continued. "Interest rates, prices and other market fundamentals will throttle ultimate supply and match it to meet demand. This is a process that unfolds over many years."
A significant majority (74 per cent) of current Pemberton residents live in market housing, while 22 per cent live in secondary dwellings, and three per cent in purpose-built rentals. Thirty-five per cent of Pemberton dwellings are of the single-family variety, with 26 per cent being townhomes, 22 per cent secondary suites and 17 per cent apartments.
.